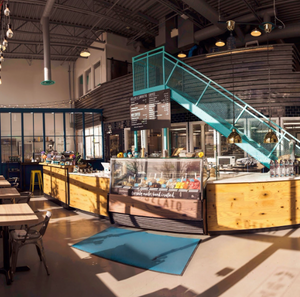 Tour and Tasting Experience
Gelato Academy FAQs
How often Gelato Academies run?
Right now Academies are available every Saturday, however if you are looking for a special date or time, or looking for us to host a larger group, shoot us an email to experience@righteousgelato.com and we'll make it happen!
I have an open date ticket, what do I do?
Check out the dates we currently have available and email us with your ticket number to confirm your spot!
I want a physical ticket for a gift instead of the virtual receipt. How do I get them?
We are happy to mail you physical copies of the Gelato Academy tickets through standard mail. Please email us at experience@righteousgelato.comwith your order # and mailing address and we can get those sent to you! NOTE: Do not select ship option when checking out as this will charge you additional fees.
I have an allergy, can I still come?
Absolutely! We have tons of dairy, nut and gluten free options. Just give us a heads up at the time of your booking.
What kind of flavours can I choose from?
Malted, salted, spices, matcha, boozy, honey, maple, lavender, vanilla, caramel, coffee, peanut butter, almond, banana, smoke, pretzels, cookies, hazelnut, white chocolate, mallows, cheesecake and a daily selection of fruit purees, and more!
How old do you have to be to attend?
Everyone is welcome! But to get the full hands on experience that we want you to enjoy, it's  best suited for those 14 and up!
What should I wear?
You do you! But you'll want to be comfy for optimal gelato making, and best to wear closed toed shoes. We'd also recommend you save time on a fancy hairdo, as hairnets are mandatory in our kitchen.
Can I take pictures of the Factory?
Absolutely! Just make sure to tag us on social media so we can share the #GelatoLove. But seriously, if there's any confidential information throughout your tour, your guide will let you know not to take any pics.
Where are you located?
Our HQ is located at 110 221 19th Street S.E Calgary, Alberta
Can I book further in advance?
Do you have parking?
We do, feel free to park in any of the Righteous parking stalls, or there's also plenty of street parking.
Do you serve drinks?
We have Italian sodas and a full espresso bar available, but if you'd like to add something custom, just shoot us an email at experience@righteousgelato.com and we can chat!
Do you serve food?
Just Gelato, but the possibilities are endless! If you are looking to add a catering we can make that happen! Just send us an email to experience@righteousgelato.com at the time of your booking.
Can I sample your other flavours?
ABSOLUTELY! Feel free to sample any (or all) of the flavours from the case while you're here.. Just make sure to let us know your favorite ;)
Inspiring business and yummy gelato
My boyfriend and I had a great time touring righteous gelato! Our tour guide was very knowledgable, super nice and very passionate which made the experience great. We enjoyed learning about the history of the business and the production of the gelato. We really admired the community related aspects of the business as well. Last but not least we certainly enjoyed tasting all the flavours in the case and getting a float of our favourite flavours at the end. We came to the conclusion that out of all the frozen treat places we had been to over the summer righteous gelato was by far the best! Thank you!
Awesome!
Our family recently visited Righteous Gelato for a tour and it was such a positive experience. We were travelling through Calgary on a holiday so I emailed the company a couple weeks before our trip to ask a few questions and requested the day we would be passing through the city. They responded very promptly and were extremely accommodating. I didn't realize they weren't open to the public the day(Wednesday) I had booked the tour. Our guide was very knowledgeable and happy to answer all of our questions. When we went to purchase a few cups of gelato after our tour we were told it was no charge! We were also allowed to stay inside to eat without feeling rushed to leave at all. We purchased 3 pints of gelato for our travels, which were all delicious. We highly recommend the tour and of course the yummy gelato. Thank you again for the experience, we will visit again soon!
Would Highly Recommend!
My team and I attended the tour and tasting as a work event and it was tons of fun! Miles was a fantastic tour guide and shared lots of interesting facts about gelato and the company. I have recommended this tour to many of my friends and family.